SCIoT Bletchley staff member awarded a Technical Teaching Fellowship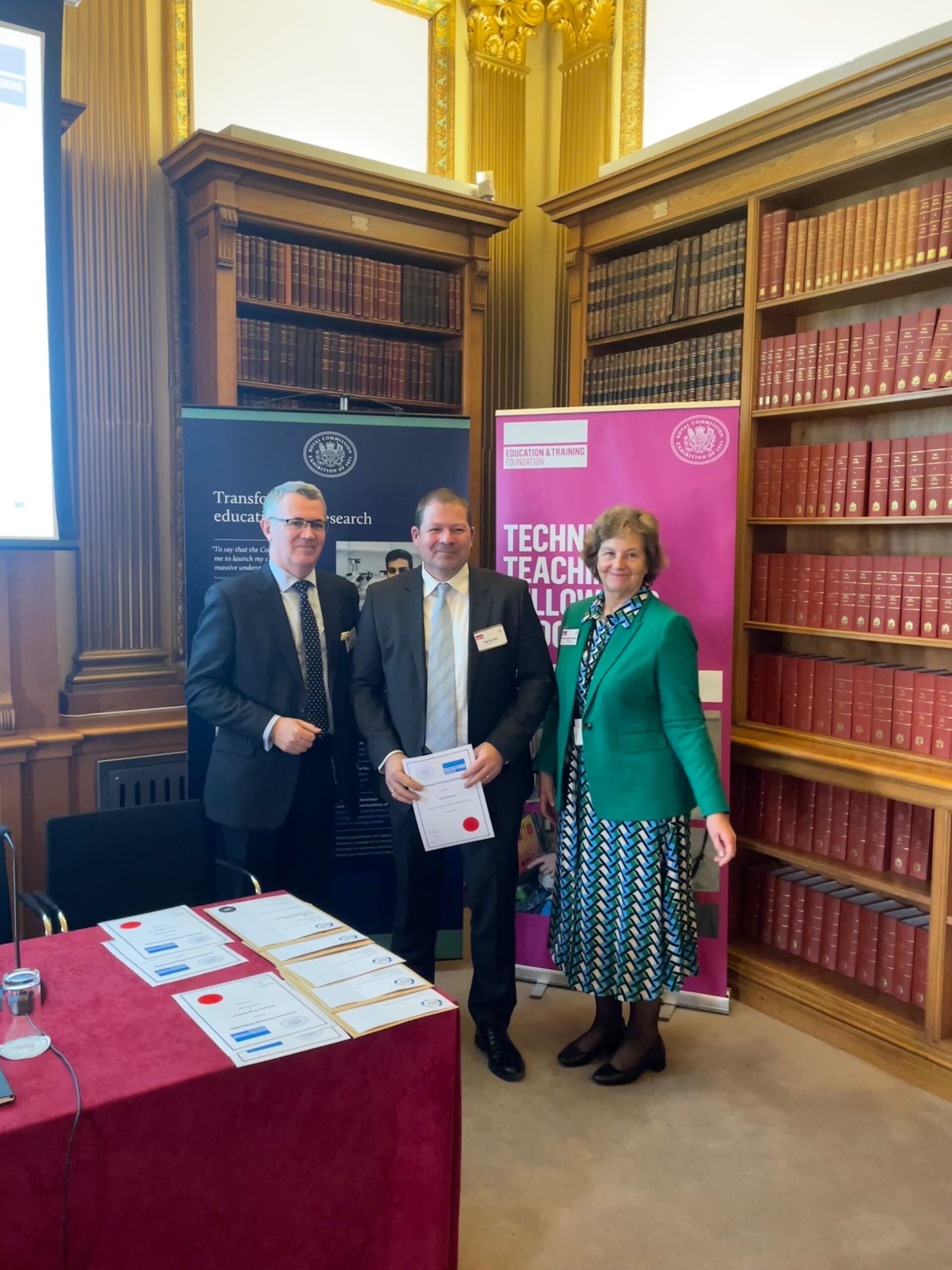 Paul Gartside, Curriculum Developer and Digital Coach at the South Central Institute of Technology (SCIoT) in Bletchley has been awarded a Technical Teaching Fellowship for the 2023/24 academic year from the Education and Training Foundation (ETF) and Royal Commission for the Exhibition of 1851.
The Fellowships have been awarded annually since 2019 with the aim of promoting excellence in technical STEM (Science, Technology, Engineering and Maths) teaching in Further Education.
Fellows are expected to develop activities to maximise the benefit of their Fellowships, sharing and disseminating their effective practice at national and regional conferences and contributing to CPD facilitation, and the delivery of a final report to engage technical education practitioners in their area of subject specialist expertise. They also become Fellows of both the Royal Commission and the Society for Education and Training.
Paul transitioned from industry to education with more than 30 years' experience leading cyber security. He has played an active part in the design, development and delivery of South Central Institute of Technology's new digital qualifications, working with industry partners to bring the curriculum and learning experiences to life. His role has also seen him facilitating high quality technical CPD for teachers and trainers to raise awareness and develop a deeper understanding of this priority area, in which there is a recognised skills shortage. His Fellowship will focus on supporting technical STEM teachers as dual professionals, closing the digital divide by bringing education and industry closer together.
Paul was formally presented with his award at a celebration event at the Royal Society on 3 March 2023. Commenting on his Fellowship, Paul said: "It was an honour to receive a Technical Teaching Fellowship. I am excited to share and explore ideas for how further education can expand practical real-world skills and technical teaching techniques for the greater good of all learners. Working at the SCIoT has been a fantastic personal growth experience and something I am keen to share with others both in Industry and Education."
Professor Dame Ann Dowling OM FRS FREng, Commissioner and chair of the Industry and Engineering Committee of the Royal Commission for the Exhibition of 1851, said: "An effective and highly regarded FE sector is vital to developing and maintaining the skilled workforce so needed by businesses across the UK. I am delighted that these awards recognise and celebrate outstanding teachers in Further Education. I have been particularly impressed by the way previous recipients have used their Technical Teaching Fellowships to extend the visibility and reach of their work. Through working with employers, driving curriculum developments, sharing best practice and inspiring others, they are supporting widespread improvements in technical teaching to the benefit of many learners."
Cerian Ayres, the Education and Training Foundation's National Head of Technical Education, said: "Our congratulations go the successful applicants for the 2023–24 Technical Teaching Fellowships. These awards recognise leading lights in technical education across Further Education and Training, supporting them to share their practice for the benefit of the whole sector. Fellows join a community of practice that has a demonstrable, sustainable impact and we look forward to working with them as they follow in their predecessors' footsteps, enhancing and strengthening the capability of technical teaching and helping to address the economic, social, environmental and climate challenges the world is facing."