Meet the Coach: Andrew Sheldon, Cyber Security
We're incredibly lucky to have so many fantastic Coaches at the South Central IoT, many of whom work professionally within their area of expertise, bringing a greater level of current industry knowledge to our students.
A great example of this is Andrew Sheldon, a computer forensic consultant with more than 30 years of experience specialising in the investigation of digital crime, piracy, fraud and abuse in digital systems.
As well as being the Director of Innovation at CCL Solutions Group incorporating Evidence Talks Ltd, Andrew designs and delivers the Digital Forensics Unit of the Cyber Security module on the HNC in Digital Technologies at the South Central IoT.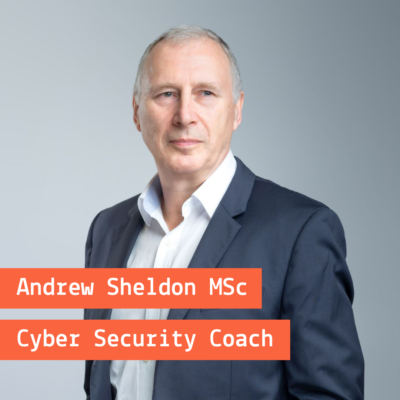 "In 2006 I was awarded one of the first Masters Degrees in Forensic Computing from Royal Military College of Science at Cranfield University. I was appointed a member of the MSc Degree management committee and was the module manager, developer and lecturer for the Internet Investigation module of the Degree.
I have been called as an expert witness in many criminal, civil and employment tribunals in cases involving computer forensic analysis and have conducted more than 1000 forensic examinations involving major fraud, data breaches, digital piracy, corporate espionage, corporate policy abuse, Child exploitation, copyright and IP theft, hacking, encryption and password recovery.
Since 2004 I have been responsible for developing specialist techniques and technologies used globally by digital forensic practitioners and first responders within the law enforcement, military, intelligence and corporate sectors.
In 2020 I was asked to design and build the new digital forensic laboratories at Cranfield University and my team at CCL and I have been contracted to design and develop the new Digital Forensics Masters Degree. I have also been appointed as Course Director for this degree.
I have always enjoyed helping others understand the complex and rapidly changing domain of digital forensics and the challenges we face as practitioners.
My role as Director of Innovation enables me to identify and develop new techniques in response to these challenges and I aim to share my enthusiasm for this branch of forensic science with students and illustrate how rewarding a career in digital forensic can be.
I really enjoy the interactive engagement with students during my lectures and the superb support I receive from the course manager, Paul Gartside. Every day is a learning day when you work in digital forensics."
Find out more about our Cyber Security pathway.